Penpal: Homework, supercharged.  
Speculative Project | Interaction Design and Product Experience Design  
Homework has many pitfalls, so KISKA Interaction Design created Penpal. Easy to use and affordable, it's the next-generation of at-home learning.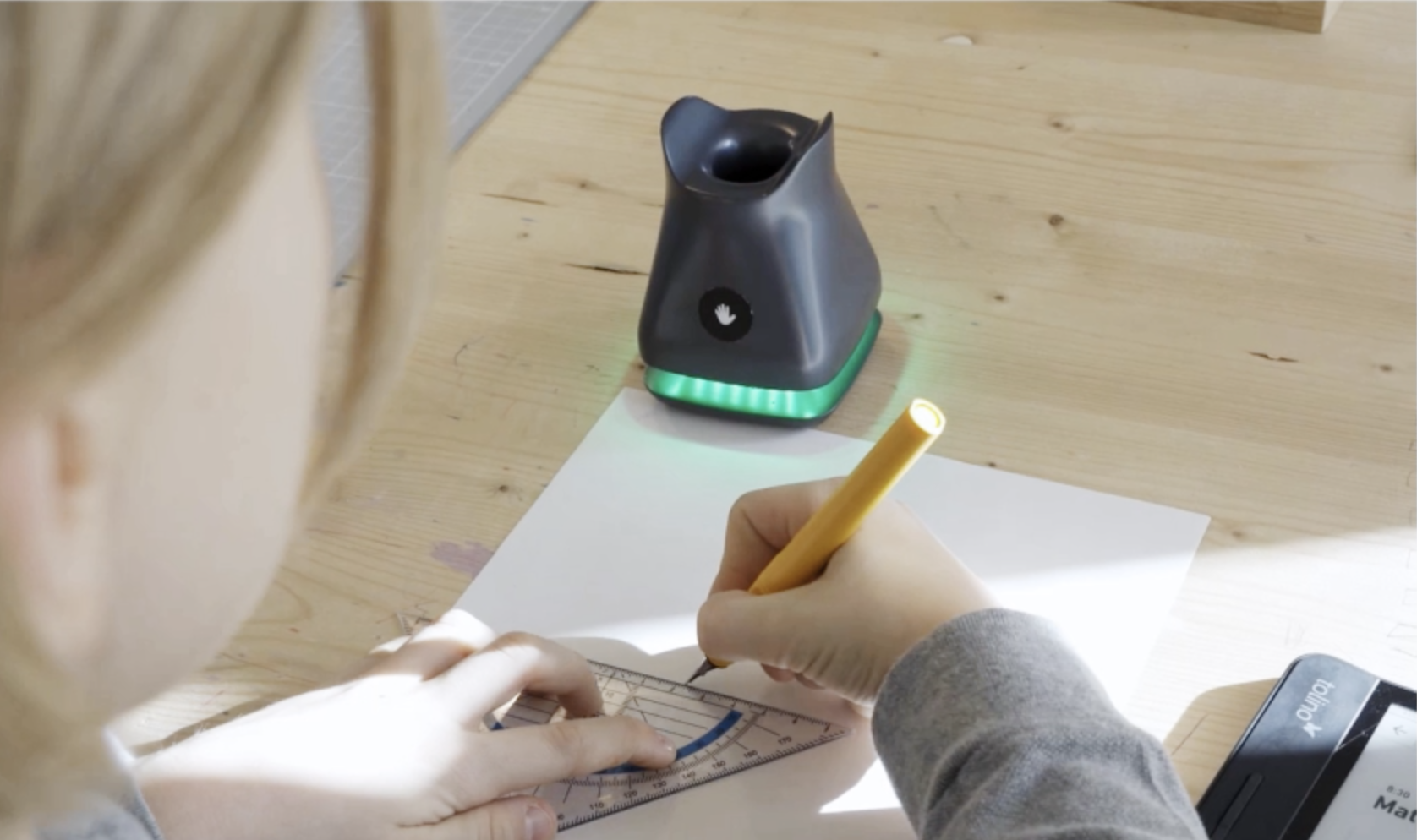 In 2019, our digital designers chatted about how homework doesn't work. Students can't ask questions, they must carry heavy books around, and there's no feedback. The team asked themselves,
"What's the next generation of homework?"   
It got serious in 2020, when lockdowns forced students into fulltime at-home learning. Virtual classrooms and learning apps were developed, but often of little help. Designed for use with tablet, laptop, and smartphone, the hardware is too complex for youngsters and distracting for the rest of us. Furthermore, children were left over-stimulated or stressed by the additional screentime. Since then, the team chipped away at a solution that supercharges the homework experience.
Solving the homework problem.
PHASE 1: ECOSYSTEM IDEATION
All stakeholders are considered: students, caregivers, and educators; schoolboards, governments, consumer brands, and textbook publishers.
PHASE 2: USER JOURNEY
A full, ideal, user journey maps out every possible interaction. With a product feature added to satisfy each.
PHASE 3: DESIGN AND PROTOTYPING
Close collaboration between designer and engineer enables quick development of a functional prototype. Hardware is designed, 3D printed, wired, and coded for evaluation and iteration.
PHASE 4: DEMOS
Taking on the role of student and teacher, the team rigs up a remote demo. Sharing screens, they try different scenarios and evaluate performance. Internally and alongside stakeholders.
PHASE 5: USER TESTING
The experts (real kids) try Penpal out themselves, with promising feedback: they like it!
Homework, supercharged. 
REAL INTERACTIONS
Penpal's speaker, microphone, and "raise hand" button give students and teachers direct, "authentic" access to each other.
SUPERVISED PROBLEM-SOLVING
Penpal can track the time needed to solve tasks. Picking up the pen from the dock notifies the teacher work is being done and they can reach out if students seem to be struggling.
HEALTHY USAGE
Penpal stores all books and learning apps, so students don't have to haul around heavy supplies. Plus, the e-ink screen does not contribute more harmful blue light.
IMPROVED EDUCATION EQUITY
Penpal's subscription-based model is more affordable than costly private tutors. Its digital technology is also easy to implement and operate in a range of settings.
BOOSTED MOTIVATION AND FUN
Penpal allows students to learn a balance of requesting assistance and working independently. Plus, whimsical covers give the dock a positive space in a child's world.
ENHANCED STUDY AND DIGITAL SKILLS
Penpal encourages the tactile act of writing, which is integral to learning and memorisation. All while students explore a new digital interface.
Merging physical and digital. Generating value.
Socially relevant and impactful at a personal level, Penpal isn't just "another" smart product speculative project. It's the complete product innovation package; a valuable solution developed to improve peoples' lives in concrete ways.
Precisely what gets our gears turning.
Check out more of our work.
Find out what co-creation can do. Strategic and hands-on, KISKA boosts business and generates impact with brand and design. See the results for yourself.