Making waves in our alpine playground.
WUUX Surfboard | Hobbies & Passions
Surf vibes are strong at KISKA Salzburg and KISKA Murrieta. And our collection of boards is growing. Follow the design process with WUUX Surfboards & Fins.
Surf vibes are strong at KISKA and our collection of studio surfboards is growing.
The Austrian Alps that surround KISKA HQ are known for skiing, hiking, mountain biking, climbing, and paragliding. Not a place you'd expect to find a surfer community, but it exists in the heart of Salzburg. In 2010, the city paved a river wave in the Almkanal. The best part? It's 10 minutes away from our studio.
As early as 2015, more of the KISKA team was using their lunchtime to visit the river wave. When news of rad times spread in 2016, a team from across the studio teamed up with local shaper WUUX Surfboards & Fins. Together, they designed, prototyped, and built the first KISKA surfboard. Made with natural wood veneer, the custom board design prominently displays KISKA's logo, and is constructed specifically for riding city waves with rocks and concrete sidewalls.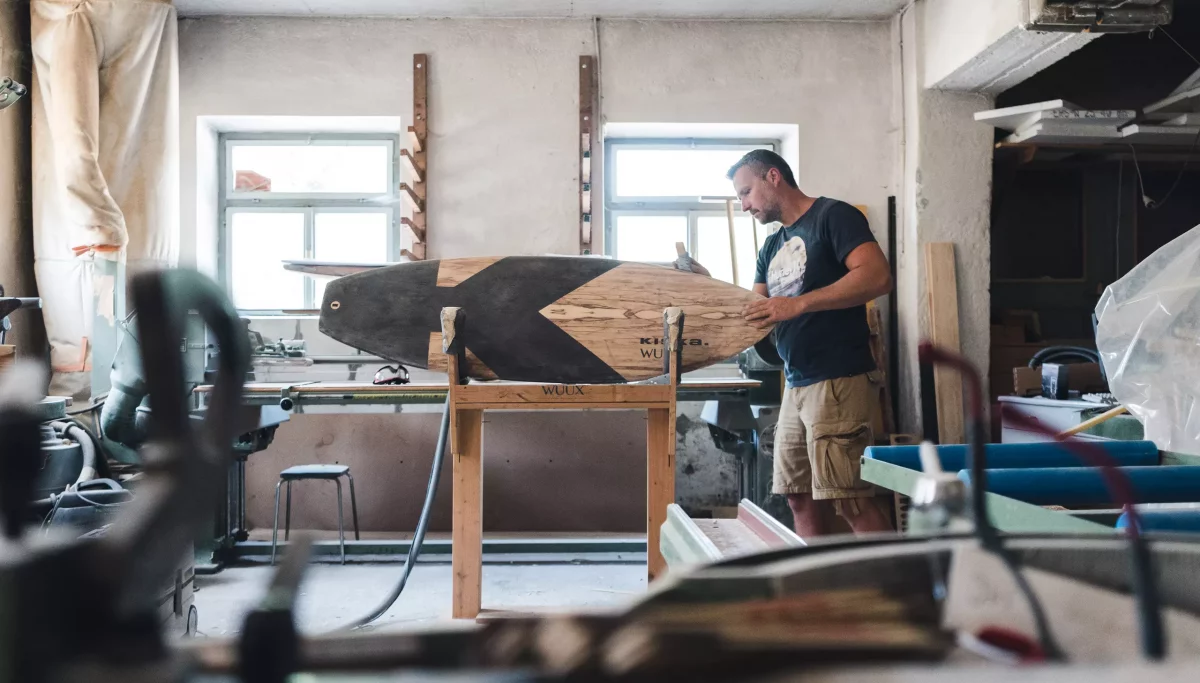 Since then, WUUX has produced a board for KISKA's teams in California and Munich, as well as two more river surf boards for Austria.
Surfboards, like positive interactions, should be shaped by people. A cool working atmosphere and balanced work life are key in the creative industry. Getting people pumped for surfing – or whatever other activities they're into – is a win-win situation for everyone.
like what you see? join our team. CHECK OUT careers.
Check out more of our work.
Find out what co-creation can do. Strategic and hands-on, KISKA boosts business and generates impact with brand and design. See the results for yourself.